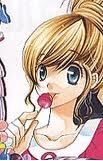 Alisa Appleton is the fifteen year old granddaughter of Theo Appleton, the Takishima group's biggest stockholder. She likes to eat without limit. When Kei Takishima is trying to move the main branch of the Takishima group to Japan, one of the conditions to do so was to convince Alisa to study in Japan.
To accomplish this, Kei intended to use Alisa's love of food by introducing her to Japanese food; while Alisa had been set on Mexico because she wanted to eat Mexican tacos, she realized how hard Kei had been trying and decided to study in Japan after all.
Soon afterward, Kei's grandfather arranges for Kei and Alisa to be engaged, though the arrangement is called off when Aoi Ogata takes over as the new CEO of the company. Alisa, curious to see what the girl Kei loves is like, meets with Hikari Hanazono in Japan and began to give her lessons on to be a good girlfriend.
She eventually gives up when she finds that Hikari is unable to directly say that she loves Kei. What Alisa wants most is to know what it feels like for a man to say he loves her. She later develops feelings for Ryū Tsuji and she is heartbroken when she discovers he is in love with Finn Coupe Schuzette, who reciprocates his feelings. At the conclusion of the series, she attends Kokusen, the same school as Yahiro and Sakura. In the sequel of the series, she and Aoi got married that she is now known as Alisa Ogata, much to the surprise of everyone.
Etymology
[
]