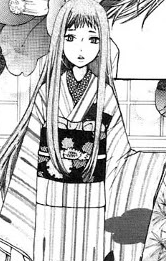 Shinobu Tsuji
Profile
辻 忍
Tsuji Shinobu
Age
18
Gender
Female
Voice Actors
Seiyū
N/A
English
N/A
Debut
Manga
Chapter 65 (Cameo)
Anime
N/A
Image Gallery
Shinobu Tsuji
, age 18, is
Ryuu
's older sister. She makes her only actual appearance in an extra comic in the S.A fanbook. Shinobu rarely appears before others, to the extent that Ryuu remarks that even he rarely sees her.
Personality
Edit
She's an apparently kindhearted young woman, she loves her younger brother greatly to the extent that she has a room filled with photos of him and regularly writes about his daily activities in her diary. When she notes that Megumi and Jun, appear to be drifting apart from him, Shinobu also notices that Finn has been hanging around Ryuu more.
She later makes her first full appearance in the second chapter of Special A: Jougai Rantou. She has long hair and resembles Ryuu but is much shorter than him. She also seems to only wear kimonos. In this chapter, her character is expanded upon. Shinobu loves to see her brother suffer because she believes that face is the cutest and even considers it as a hobby and "her purpose in life". For this reason, Ryuu refused to let Finn go to his house. Noticing this and realizing he was suffering less because of his relationship with Finn, Shinobu had Ryuu think she was going to Kyoto so he would invite Finn over so she could meet her and make Ryuu suffer by tricking Finn into saying harsh words to Ryuu and avoiding him in order to make him suffer for her amusement. However, after Ryuu scolds his sister for her actions, she confesses to Finn about how she tricked her. Finn still forgives Shinobu and states she wants to be friends with her and see her smile. Shinobu, surprised and happy, begins to stalk both Ryuu and Finn afterwards.