Special A Wiki
Welcome to the Special A Wiki!
3,094 Edits • 68 Articles • 255 Files
About
Special A (スペシャル·エー), also known as SA, is a shōjo manga by Maki Minami. Special A was adapted into a 24 episode anime which began airing in Japan in April 2008. The story revolves around Hikari Hanazono and Kei Takishima, as well as their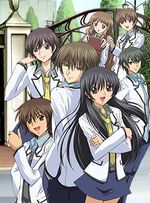 friends and fellow members of S·A. Hikari Hanazono has always been second to Kei Takishima. When they were six years old, their pro-wrestling loving fathers introduced them to each other. Assuming that she was the best in wrestling, young Hikari challenged Kei to a wrestling match only to be thoroughly defeated by him. Ever since that fateful incident, Hikari swore to beat Kei in school grades, sporting events or any competition. To do this, she has enrolled in the same school as Kei since elementary. Now she attends Hakusenkan, an ultra elite school, that costs her carpenter father a lot of money. Hikari and Kei are the top two students in the school, with Kei holding firmly to that number one position. While Hikari considers Kei to be a rival and important friend, she is completely unaware that Kei is in love with her. The story primarily focuses on Hikari and her constant attempts to defeat her one and only rival, Kei, and how she finds love in their rivalry.
Featured Episode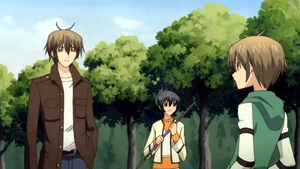 Brothers-Teacher
Hikari is supposed to tutor Kei's younger brother, Sui Takishima. It seems things aren't very good between Kei and Sui. Hikari is having some trouble in teaching Sui because he thinks that everything is pointless and he will never be able to match up to Kei's standard.
Things become more messed up, no matter how much Hikari tries. However, in the end, Kei's and Sui's true feelings for each other becomes clear and they become close as brothers. Read More.....
Featured Chapter
Chapter 1
Hikari Hanazono, a 15 year old girl is ready for school, and popping up with enthusiasm to defeat a certain "someone", she heads out. She arrives at school and narrates that the reason she joined the prestigious Shirotsuji Private Academy, was to beat Kei Takishima. Everyone at her school greets her with respect, considering that she is the 2nd ranked student in the entire school and a member of the SA. Hikari tells the student to greet her normally, but before she could say any further, the 1st ranked student and her all time rival, Kei Takishima shows up and teases her by calling her "Number two", something that really irritates her.
Hikari then narrates that the classes at this school are separated from A to F, based on the grades. The highest of all is the A-class, also known as Special A or SA, which has only 7 members. The students of the SA have different uniform and even a different building. When she reaches the SA building, which is actually a Green House, Akira, Tadashi, Megumi, Jun and Ryuu greet her. Kei then leaves for the computer lab. Read More.....
Featured Article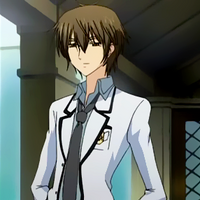 The article of the month is Kei Takishima. Kei holds the first place in the entire school and is the top member of Special A. Kei's appearance is slender, yet strong. He is a tall guy with straight brown hair and yellowish brown eyes. He is always a smooth winner, he's rarely seen stressed out or concerned unless it involves Hikari in trouble. He maintains a stoic and cool demeanor most of the time. He is initially shown as being very independent. He likes to refer to Hikari as "Number Two," or "Miss Rank Two" which never fails to provoke her. He also has a photographic memory.
Vote for the next featured article...
Affiliations
Contact us if you want to affiliate with the Special A Wiki.